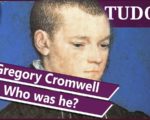 On this day in Tudor history, 4th July 1551, Gregory Cromwell, 1st Baron Cromwell, died of sweating sickness at Launde Abbey in Leicestershire. He was laid to rest at the abbey's chapel on 7th July.
Gregory Cromwell was the son of the more famous Thomas Cromwell, but what do we know about him and what happened to him after his father's fall in 1540?
Find out about the life and career of Gregory Cromwell in today's talk.
[Read More...]