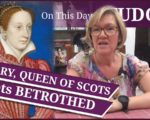 On this day in Tudor history, 19th April 1558, fifteen-year-old Mary, Queen of Scots and fourteen-year-old Francis, the Dauphin, son of King Henry II of France, were formally betrothed at the Louvre Palace in Paris.
This betrothal was just five days before their wedding and was a lavish affair, celebrated with a ball.
Find out more about the betrothal, the bride and groom, and arrangements for their marriage, in today's talk.
[Read More...]