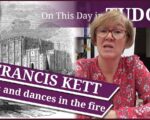 On this day in Tudor history, 14th January 1589, physician Francis Kett, was burned for heresy near Norwich Castle.
A local minister described him as "leaping and dancing" in the fire, clapping his hand and praising God right up to the end. A courageous man.
But how did Francis Kett come to this awful end?
Find out more about this doctor, priest and condemned heretic in this talk…
[Read More...]