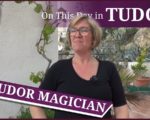 On this day in Tudor history, 14th April 1565, in the reign of Queen Elizabeth I, astrologer, astronomer, mathematician and magician, Edward Gresham, was born in Stainsford, Yorkshire.
Gresham is known for his treatise "Astrostereon" and his almanacs, but what's really interesting is his connection to a countess's annulment and a poisoning.
Find out more about Edward Gresham in today's talk.
[Read More...]