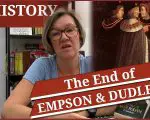 On this day in Tudor history, 17th August 1510, King Henry VII's former chief administrators, Sir Edmund Dudley and Sir Richard Empson, were beheaded on Tower Hill as traitors even though they had served the former king loyally.
What happened? Why were these two advisors executed by their former master's son?
I explain what led to Empson and Dudley's executions.
[Read More...]