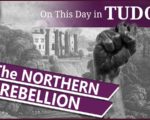 This day in Tudor history, 9th November 1569, is the traditional date given for the start of the only major armed rebellion of Elizabeth I's reign. It's known as The Northern Rebellion or Rising of the North or Revolt of the Northern Earls.
Northern earls Charles Neville, 6th Earl of Westmorland and Thomas Percy, 7th Earl of Northumberland, led this uprising against Elizabeth I, seeking to depose her, replace her with Mary, Queen of Scots, and restore Catholicism.
But what happened?
Find out about the 1569 Northern Rebellion and the fate of the Northern Earls in today's talk.
[Read More...]