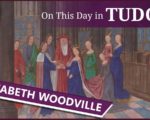 On this day in Tudor history, 8th June 1492, in the reign of King Henry VII, Elizabeth Woodville, died at Bermondsey Abbey.
Elizabeth Woodville was the wife of King Edward IV and mother of Elizabeth of York and the Princes in the Tower, King Edward V and Richard of Shrewsbury, Duke of York, but there's far more to her than that.
Enjoy this overview of Elizabeth Woodville's life.
[Read More...]