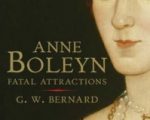 Born around 1502 in Bechworth, Surrey, Elizabeth was the daughter of Lucy Neville and Sir Anthony Browne; with the latter serving as standard-bearer to Henry VII and occupying the post of Lieutenant of Calais.
Little is known of Elizabeth's early life, however, her family did have connections to the royal court. Her father was a trusted courtier, and in 1508 her sister Anne married Sir Charles Brandon, one of the future King Henry VIII's closest friends.
During the 1520s Elizabeth was of marriageable age, and in around 1526 she was matched with Henry Somerset, the second Earl of Worcester. This was an elevated match as her father was neither royal nor noble, however, his descendants were members of parliament. Somerset's first wife, Lady Margaret Courtney, granddaughter of Yorkist queen Elizabeth Woodville, had died without issue. Elizabeth and Henry married before 1527 and would go on to produce nine children, with many living into adulthood.
[Read More...]