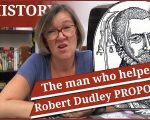 On this day in Tudor history, 7th October 1577, author, poet, courtier and soldier George Gascoigne died in Stamford, Lincolnshire.
Gascoigne was a gifted poet and was hired in 1575 by Robert Dudley, Earl of Leicester, to provide entertainment for Queen Elizabeth I's visit to Leicester's home, Kenilworth Castle. This was Leicester's last ditch attempt at getting the queen to marry him and he hoped Gascoigne could help him.
Find out all about Gascoigne's masque, Zabeta, and what happened at Kenilworth, in today's talk.
[Read More...]