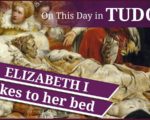 On this day in Tudor history, 21st March 1603, a dying Queen Elizabeth I finally took to her bed.
Elizabeth I had been queen since November 1558, but now she was dying. She had deep-rooted melancholy, couldn't sleep and was refusing to eat. She spent her days lying on cushions in her withdrawing chamber. But on 21st March, she was finally persuaded to go to bed.
Find out more about these last days in this talk.
[Read More...]