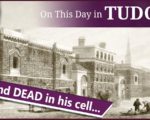 On this day in Tudor history, 19th December 1583, twenty-three-year-old convicted conspirator, John Somerville, was found dead in his cell at Newgate Prison. His death was said to be suicide, due to his poor mental health, but some Catholics believed that he had been killed.
Somerville had been found guilty of conspiring to assassinate the queen, but did he really mean to? Was he mentally ill? Was he manipulated by others?
Find out more about John Somerville in today's talk.
[Read More...]