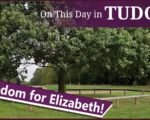 On this day in Tudor history, 18th October 1555, Elizabeth, daughter of Henry VIII and Anne Boleyn, finally received permission from her half-sister, Queen Mary I, to leave court and travel to her own estate at Hatfield, rather than return to house arrest in Woodstock.
Poor Elizabeth had spent the last 18 months being watched or imprisoned, so this must have been a huge relief.
But why had Elizabeth been watched and confined? What had she gone through and why?
Find out more about this awful part of Elizabeth I's life…
[Read More...]