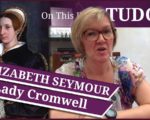 On this day in Tudor history, 19th March 1568, Elizabeth Seymour, Lady Cromwell, died. She was around fifty years old at her death.
Elizabeth was the sister of a queen, and a lord protector, and two of her brothers were executed as traitors, but what else do we know about Elizabeth Seymour and how is she linked to the Cromwell family and a portrait once thought to be of Queen Catherine Howard?
Find out more in today's talk.
[Read More...]