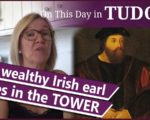 On this day in Tudor history, 2nd September 1534, Gerald Fitzgerald, 9th Earl of Kildare and Lord Deputy of Ireland, died in the Tower of London at around the age of 47. Kildare had been arrested on 29th June 1534, accused of corruption and causing rebellion in Ireland.
Kildare seems to have spent most of his career being accused of crimes, but his son Silken Thomas's rebellion was his final undoing.
He was already ill when he was arrested and imprisoned, suffering from the after effects of being shot, but at least his wife was able to nurse him.
Find out more about this Earl of Kildare, his life and career, in today's talk.
[Read More...]