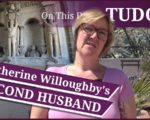 On this day in Tudor history, 9th April 1582, Richard Bertie, member of Parliament, evangelical, and second husband of Catherine Willoughby (other married name Brandon), Duchess of Suffolk, died at Bourne in Lincolnshire. He was laid to rest in St James's Church, Spilsby, with Catherine, who had died in 1580.
Bertie was Catherine's gentleman usher and the two became close following the death of her sons from sweating sickness.
Find out more about the man Catherine Willoughby chose to marry for love in today's talk from Claire Ridgway.
[Read More...]