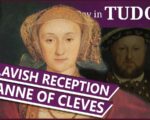 On this day in Tudor history, 11th December 1539, Anne of Cleves and her retinue were received at Gravelines, just a few miles outside of Calais, by Lord Lisle, Deputy of Calais.
Anne of Cleves was on her way to England to marry King Henry VIII, but her journey had been rather slow and she was about to be delayed even more.
The reception was rather lavish, with everyone dressed up to the nines.
Enjoy a contemporary description in this talk…
[Read More...]