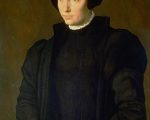 Thank you to our regular contributor, Heather R. Darsie, for introducing us to this interesting 16th century woman.
Dorothea Oldenburg, Princess of Denmark and Norway,1 was born to King Christian II of Denmark and Norway, and Isabella of Austria on 10 November 1520. Isabella of Austria was younger sister to Charles V, Holy Roman Emperor, and a niece of Katherine of Aragon. Dorothea was a niece of Charles V.
Dorothea's father, Christian II, was forced to abdicate his throne on 20 January 1523. Thereafter, Dorothea and her family, including her better-known little sister Christina of Denmark, fled to the Netherlands. Three-year-old Dorothea's great-aunt, Margaret of Austria, was serving as Regent of the Netherlands; Margaret served in this capacity from 1507 to 1515, and again from 1519 until 1530. Margaret was pro-English.
[Read More...]