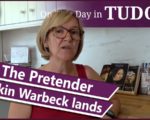 On this day in Tudor history, 3rd July 1495, the pretender Perkin Warbeck landed at Deal in Kent with men and ships. In the ensuing battle, the Battle of Deal, with Kentish men who supported King Henry VII, around 150 of Warbeck's men were killed and over 160 captured. Warbeck managed to escape, fleeing to Ireland.
Who was Warbeck claiming to be? Whose support did her have? And what happened next?
Find out more about claimant Perkin Warbeck in today's talk.
[Read More...]