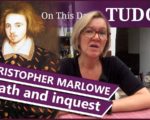 On this day in Tudor history, 1st June 1593, the inquest into the death of playwright, poet and translator Christopher Marlowe took place.
Twenty-nine-year-old Marlowe, writer of such famous works as "Tamburlaine", "Dr Faustus" and "The Jew of Malta", had been fatally stabbed at a house in Deptford Strand, London, by a man named Ingram Frizer on 30th May 1593, but what happened?
In today's "on this day" talk, I share William Danby's coroner's report on what happened that fateful day.
[Read More...]