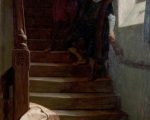 Thank you to Christine Hartweg, author of Amy Robsart: A Life and its End for writing this guest article on Amy Robsart, wife of Robert Dudley, for us today.
Who was Amy Robsart? And what do we really know about her? And why?
In 1559, the Imperial ambassador at Elizabeth I's court wrote that Robert Dudley, Elizabeth's great favourite, was "married to a beautiful wife" (but of course the ambassador had never seen her). We know for certain, on the other hand, that Amy Robsart was born on 7 June 1532 in Norfolk. Like her future husband, who was almost exactly the same age, she grew up in an "evangelical" (or Protestant) family. It is possible, even likely, that the marriage of Amy and Robert was a love match. They were married on 4 June 1550 in the presence of King Edward VI.
[Read More...]