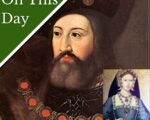 On 14th January 1515, in King Henry VIII's reign, Charles Brandon, Duke of Suffolk, was sent to France to bring back the king's sister, Mary Tudor, Queen of France.
Eighteen-year-old Mary had married fifty-two-year-old King Louis XII on 9th October 1514, but the marriage had been short-lived as Louis died on 1st January 1515.
Before marrying Louis, Mary had made her brother promise that if the French king died she could marry a man of her choosing. That man ended up being Suffolk, Henry VIII's best friend, and the very man sent to fetch her.
[Read More...]