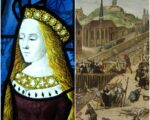 On this day in Tudor history, 24th August 1507, Cecily of York, Viscountess Welles, died at Hatfield in Hertfordshire. She was buried at "the friars".
Cecily was, of course, the daughter of King Edward IV and his queen consort, Elizabeth Woodville, and the sister of Elizabeth of York and the Princes in the Tower, but there's far more to her than that.
Did you know that she married without permission and had to be sheltered by Lady Margaret Beaufort?
Find out all about Cecily of York's life…
[Read More...]