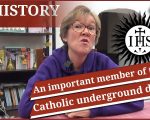 On this day in Tudor history, 19th November 1587, Henry Vaux died of what was probably consumption at Great Ashby, the home of his sister, Eleanor Brooksby.
Henry Vaux is a fascinating Tudor man. He started out as a precocious child and poet, and grew up to be an important member of the Catholic underground. He was a Catholic recusant and priest harbourer, helping Jesuit priests in the Protestant reign of Queen Elizabeth I, both financially and by giving them a roof over the heads.
In today's talk, I introduce Henry Vaux and what happened to him in Queen Elizabeth I's reign.
Book Recommendation: One of my very favourite history books is "God's Traitors: Terror and Faith in Elizabethan England" by Jessie Childs.
[Read More...]