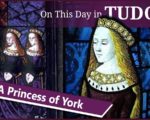 On this day in Tudor history, 15th November 1527, a woman who called herself ""the excellent Princess Katherine, Countess of Devon, daughter, sister and aunt of kings", died at Tiverton Castle in Devon.
Katherine of York, Countess of Devon, daughter of King Edward IV and Elizabeth Woodville, was just forty-nine when she died and had taken a vow of chastity after her husband's death.
In today's talk, I give an overview of Henry VIII's aunt's life and explain why she took her vow of chastity. Find out all about her.
[Read More...]