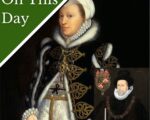 On this day in Tudor history, 26th April 1540, in the reign of King Henry VIII, sixteen year-old Catherine Carey married Francis Knollys.
Catherine was the daughter of William Carey and Mary Boleyn, and the niece of Queen Anne Boleyn. Although some believe that she was Henry VIII's daughter, there is no evidence for this.
Catherine served as a maid of honour to Anne of Cleves, and went into exile with her family in Mary I's reign.
Catherine was appointed to her cousin Elizabeth I's bedchamber in 1559. She served there until her death in 1569.
[Read More...]