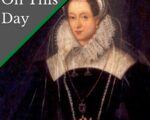 On this day in Tudor history, 20th June 1567, a silver casket of eight letters were allegedly found in the possession of James Hepburn, Earl of Bothwell, the third husband of Mary, Queen of Scots.
These letters, which became known as the Casket Letters, were instrumental in bringing down Mary, Queen of Scots.
Let me tell you a bit more about the Casket Letters and why they were "dynamite" for Elizabeth I's advisors.
[Read More...]