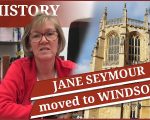 On this day in Tudor history, 12th November 1537, the corpse of Queen Jane Seymour, Henry VIII's third wife, was transported by chariot in a procession from Hampton Court Palace to Windsor Castle, in preparation for burial. Jane Seymour's heart and entrails had been buried in the chapel at Hampton Court Palace following her death on 24th October 1537.
Queen Jane's stepdaughter, the Lady Mary, acted as chief mourner for the proceedings.
There was also a commemoration for Queen Jane in the city of London.
[Read More...]