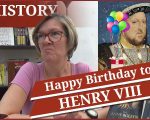 Yes, on this day in Tudor history, 28th June 1491, King Henry VIII, second monarch of the Tudor dynasty, was born at Greenwich Palace.
This second son, the spare, of King Henry VII and Queen Elizabeth of York ended up becoming King Henry VIII in April 1509 and although in many ways he could be seen as a monstrous tyrant, he did achieve much during his reign.
In today's video, I give an overview of this man, his life and his reign.
[Read More...]