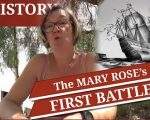 On this day in Tudor history, 10th August 1512, the English fleet's flagship, the Mary Rose, saw battle for the first time in the Battle of Saint-Mathieu, a naval battle in the War of the League of Cambrai.
The battle was fought between the English fleet and the Franco-Breton fleet just off the coast of Brest.
1,500 to 1,600 men were lost that day, but how? What happened? And who was victorious?
I explain all in today's talk.
[Read More...]