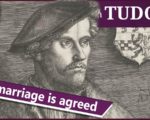 On this day in Tudor history, 4th September 1539, William, Duke of Cleves, signed the marriage treaty promising his sister, Anne of Cleves, in marriage to King Henry VIII.
Anne would of course become Henry VIII's fourth wife.
Find out all about the marriage agreement and its terms, and what happened next, in today's talk.
[Read More...]