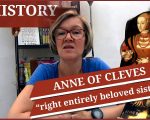 On this day in history, 9th July 1540, Anne of Cleves went from being Henry VIII's queen consort to being his "right dear and right entirely beloved sister" after their marriage was annulled.
Why was their marriage annulled? How did Anne of Cleves react to the news? What happened to her and Henry VIII afterwards?
I explain the situation in today's talk.
[Read More...]