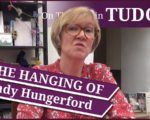 On this day in Tudor history, 20th February 1523, Agnes, or Alice, Lady Hungerford, was hanged at Tyburn.
Agnes was said to have "procured" her servants to murder her first husband, John Cotell, who was strangled before being thrown into the furnace of Castle Farley. A dastardly deed.
Find out exactly what happened in today's talk.
[Read More...]