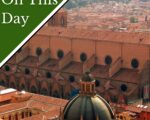 On this day in Tudor history, 18th January 1543, composer, court musician and perhaps spy Alfonso Ferrabosco was baptised at the Cathedral of San Petronio, in Bologna, Italy.
Why am I talking about an Italian composer and musician?
Well, because he worked at Queen Elizabeth I's court and is said to have been responsible for the growth of the madrigal at the royal court.
Here are some facts about this Italian composer and musician…
[Read More...]