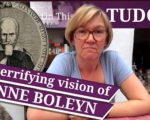 On this day in Tudor history, 17th March 1565, Scottish theologian and Reformer Alexander Alesius (also known as Ales, Aless), died in either Leipzig or Edinburgh.
Alesius wrote a huge number of theological works, was friends with reformers Philip Melancthon and Thomas Cranmer, Archbishop of Canterbury, but had a row with the Bishop of London at one point.
Let me tell you a bit more about Alexander Alesius and also a terrifying vision or nightmare he experience in the early hours of 19th May 1536, the day of Queen Anne Boleyn's execution.
[Read More...]