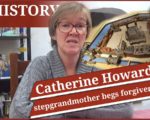 On this day in Tudor history, 20th December 1541, a "very sickly" Agnes Tilney, Dowager Duchess of Norfolk, begged King Henry VIII for forgiveness.
The dowager duchess had been arrested and taken to the Tower accused of misprision of treason for hiding her stepgranddaughter Catherine Howard's past relationship with Francis Dereham.
In today's talk, I share what the dowager duchess wrote to the king and also what happened to this sickly woman.
[Read More...]