Monthly
Three Monthly
Six Monthly
Yearly (and Save!)
Digital Monthly Magazine
Digital Magazine Back Issues
Kings and Queens E-book
Ebook Joining Gift
Pin Badge
Society Mug
Weekly Videos
Monthly Expert Videos
Monthly Expert Online Chats
Monthly Informal Chats
Weekly Quiz
Private Forum
Printed Magazine Quarterly
Digital Magazine Only
Per Year
Monthly Expert Online Chats
Printed Magazine Quarterly
Digital + Paper Quarterly
Per Year
Monthly Expert Online Chats
Printed Magazine Quarterly
Monthly Expert Online Chats
Printed Magazine Quarterly
FULL + Paper Quarterly
Per Year
Monthly Expert Online Chats
Printed Magazine Quarterly
Monthly
Three Monthly
Six Monthly
Yearly (and Save!)
NOTE: A subscription is required for your membership. All prices in US Dollars.
We are based in Europe but have to take payments in dollars. Members are welcome from all around the globe
The Tudor Society is a well established Tudor history group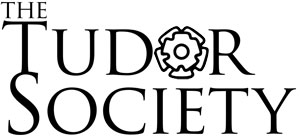 The Tudor Society is all about bringing experts and Tudor history lovers together, wherever they are in the world. Full members get monthly members' magazines, hear monthly online expert historian talks and live-chat with them to have your questions answered, enjoy weekly videos, download free e-books on the Tudor monarch and receive access to a host of resources and articles, plus the archives of magazines and expert talks - being a member of the Tudor Society gives you access to world-class historians and Tudor fans alike.
We also have magazine only subscriptions, where you'll get to enjoy quality articles from experts in the field of Tudor history.
You'll really get to know the personalities behind history
Want FULL ACCESS membership? You'll get these amazing ways to discover the Tudors...
Monthly Online Magazine
Professional digital magazine with exclusive content by historians and experts

Expert Talks
Hear from top Tudor authorities and then chat online with them

Tudor Monarch Primary Sources
Primary sources are an amazing way to discover the true Tudors

Claire Chats
Weekly videos and discussion from Claire Ridgway

Live Chatroom
The most direct way to interact with fans and experts in real time!

Fun Quizzes
Test your knowledge and stretch your brain!

Private Forum
An active Tudor-based forum for you to explore history

PLUS, as a FULL ACCESS member you get these bonuses:
Your choice of a digital book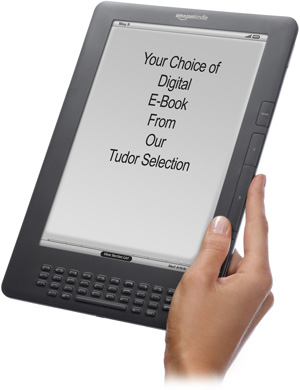 You can never get enough books about the Tudor period, right? That's why we're giving you your choice of a digital book published by MadeGlobal Publishing.
Pick from "The Anne Boleyn Collection", "The Anne Boleyn Collection II", "The Fall of Anne Boleyn", "On This Day in Tudor History", "George Boleyn: Tudor Poet, Courtier & Diplomat", "Two Gentleman Poets at the Court of Henry VIII" or if you're an author, how about "Interviews with Indie Authors"?
And we know that there are many different ways to read digital books these days. So you can choose from a Kindle version (.mobi), Kobo and other reader versions (.epub) or even a version for your computer (.pdf). Whatever you want, and exclusively for you because you'll be a member of the Tudor Society. And we'll deliver your choice of book right to your inbox.
A digital copy of "Illustrated Kings and Queens of England" by Claire Ridgway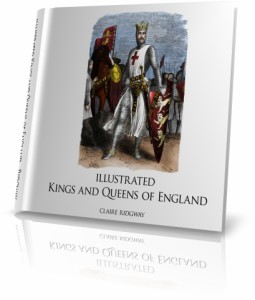 As a Tudor fan, you've obviously got an interest in British Royalty. There have been so many interesting rulers of England, all the way from Ancient Britain with Aethelbert, Offa and Aethelred, through such greats as Richard the Lionheart and William the Conqueror. Then of course there are our beloved Tudor Monarchs in the 16th Century, and leading all the way through to the current monarch, Elizabeth II.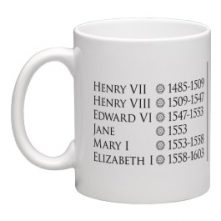 The stunning book "Illustrated Kings and Queens of England" by Claire Ridgway, has vintage illustrations of each of the kings and queens, lovingly restored and coloured. Each monarch also has a short biography. A simply fascinating book.
A Tudor Society mug for all new FULL members
Emblasoned with our logo and with all the dates the Tudor monarchs ruled, this mug is the perfect way to enjoy your day whether at home or at work. All new FULL members will be set this mug.
A Tudor Society pin badge for all new FULL members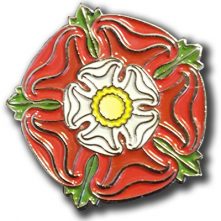 Want to show to your friends and family that you love Tudor history? This pin badge has been designed and made exclusively for the Tudor Society and is designed to be worn so that you can start conversations about your favourite topic.
The design of this pin badge has been modelled on original Tudor rose motifs from places like Hampton Court Palace, and it provides the perfect way to enjoy your membership.
The pin badge is for ALL Full members to wear with pride.
We also have a quarterly paper magazine for you to enjoy...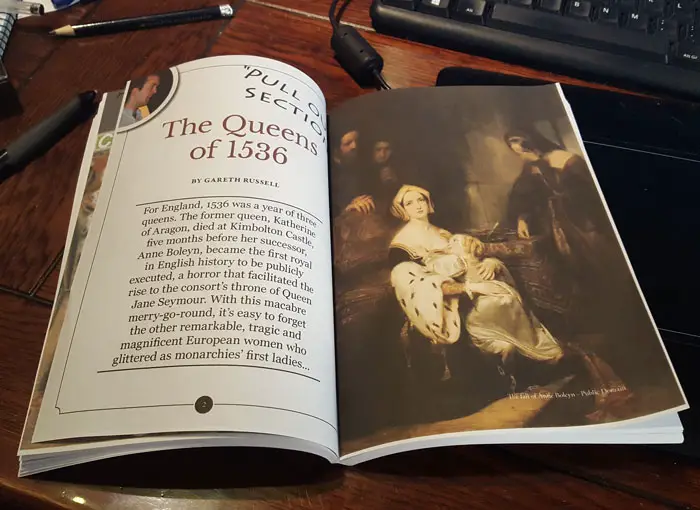 All members, both full members and magazine-only members, get access to our online digital monthly magazines, BUT you can also choose to have a paper version sent to your home every three months. This magazine is the perfect keepsake for any Tudor enthusiast and is packed with full colour from start to finish. It has three month's worth of our magazines in each edition, in a handy A5 size.