Are you a Tudor history lover? Then the Tudor Society is the site for you!
The Tudor Society is an exclusive international membership club for all those who love Tudor history and who want to keep learning more and more.
There are lots of historians and authors who are involved in the Tudor Society and who are sharing their expert knowledge with our members through the magazine and monthly expert talks.
The Tudor Society
Gives you the chance to learn from Tudor history experts in the comfort of your own home, wherever you are in the world and without having to worry about time zone differences
Puts experts in your reach so you can ask your own questions
Gives you a wide range of Tudor authorities through the monthly digital magazine, forum, chatroom and monthly expert talks
Is targeted specifically at the Wars of the Roses and Tudor period
Gives you a monthly magazine which is Tudor focused.
Gives you many ways to learn and interact - listen, watch, read, chat and share
Offers monthly live online chats with experts
Helps you find the primary sources and books you need
Enables you to become quickly absorbed in the 15th and 16th centuries
Is fun - you can enjoy quizzes, videos, giveaways and chats
Helps you get to know other Tudor history lovers
There will always be something for you to discover
With your membership, you'll get these amazing ways to discover the Tudors...
Monthly Online Magazine
Professional magazine with exclusive content by historians and experts, edited by historian Gareth Russell.

Monthly Expert Talks
Hear from top Tudor authorities and then chat online with them

Tudor Monarch Primary Sources
Primary sources are an amazing way to discover the true Tudors

Weekly videos
Weekly videos and discussion from Claire Ridgway and other contributors

Live Chatroom
The most direct way to interact with fans and experts

Fun Weekly Quizzes
Test your knowledge and stretch your brain!

Tudor Monarchs Book Series
Download our exclusive ebooks on each of the Tudor monarchs

Private Forum
An active Tudor-based forum for you to explore history

Regular Articles
Regular online history articles from Claire Ridgway and other contributors.

Contributors and Experts
Regular magazine contributors include historian Gareth Russell, historian Toni Mount, author and art historian Roland Hui, historian Sarah-Beth Watkins, historian Susan Abernethy, food historian Rioghnach O'Geraghty, novelist Wendy J. Dunn, book reviewer Charlie Fenton and author Claire Ridgway. See All About the Tudor Life Magazine for more details.
Speakers in the past have included historians and authors Derek Wilson, Jessie Childs, Toni Mount, Linda Porter, Janet Wertman, Robin Maxwell, C.W. Gortner, Nathen Amin, Matthew Lewis, Karen Bowman, Natalie Grueninger, Conor Byrne, Gareth Russell, Claire Ridgway, Sandra Vasoli, Elizabeth Norton, Wendy Dunn and Dr Elizabeth Goldring. See All About our Expert Talks for more details.
Our weekly videos have included a wide range of Tudor topics - see All About our Regular Videos.
---
The bonuses for ALL new members
Your choice of a digital book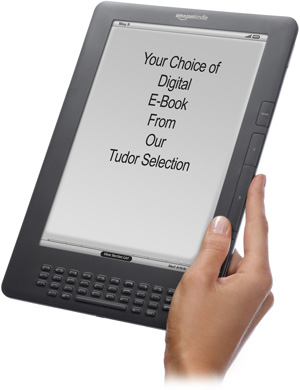 You can never get enough books about the Tudor period, right? That's why we're giving you your choice of a digital book published by MadeGlobal Publishing.
Pick from "The Anne Boleyn Collection", "The Anne Boleyn Collection II", "The Fall of Anne Boleyn", "On This Day in Tudor History", "George Boleyn: Tudor Poet, Courtier & Diplomat", "Two Gentleman Poets at the Court of Henry VIII" or if you're an author, how about "Interviews with Indie Authors"?
And we know that there are many different ways to read digital books these days. So you can choose from a Kindle version (.mobi), Kobo and other reader versions (.epub) or even a version for your computer (.pdf). Whatever you want, and exclusively for you because you'll be a member of the Tudor Society. And we'll deliver your choice of book right to your inbox.
A digital copy of "Illustrated Kings and Queens of England" by Claire Ridgway*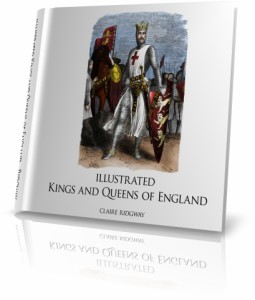 As a Tudor fan, you've obviously got an interest in British Royalty. There have been so many interesting rulers of England, all the way from Ancient Britain with Aethelbert, Offa and Aethelred, through such greats as Richard the Lionheart and William the Conqueror. Then, of course, there are our beloved Tudor Monarchs in the 16th Century, and leading all the way through to the current monarch, Elizabeth II.
The stunning book "Illustrated Kings and Queens of England" by Claire Ridgway has vintage illustrations of each of the kings and queens, lovingly restored and coloured. Each monarch also has a short biography. A simply fascinating book.
Here is our membership level configurator...
Start your 14-Day FREE Trial Today
The Yearly Plan 6 Months Free
Perfect for those who appreciate great value
$14.25


/MONTH
Billed as $171 per year
Start your 14 day FREE trial →
Pay nothing for 14 days
Billed Annually
Access to the full Tudor Society archives
30-day money back guarantee
Incredible support
The Flexible Monthly Plan
Perfect for those who are looking for complete flexibility
$28.50


/MONTH
Rolling 30 day plan - cancel any time
Start your 14 day FREE trial →
Pay nothing for 14 days
Billed Monthly
Access to the full Tudor Society archives
30-day money back guarantee
Incredible support

We do hope you'll consider joining. We can't wait to get to know you and chat with you on the site.
Best Wishes,
Claire and the Tudor Society Team